Wine Tasting Set Gift Voucher is inside the wine wooden case
Grand Reyne, Bordeaux, France
"Under the light of blue moon, swirls of wind summon prosperous golden petals."
Grand Reyne is the newest treasure discovered in Bordeaux, France. Back in the days when traders
prayed for a safe sail, a special trading ship was embossed with dragon for good luck. One night under the full moon, a storm attacked a troop of trading ships on the ocean. Countless ships could not survive, but the one and only "dragon ship"made it through the waves. Since then, this dragon has become a symbol of luck, victory, as well as prosperity. This is how Grand Reyne is presented. With grapes from the great Bordeaux, it set sail to the globe, bringing the finest taste of what this ship is proud of; summoning luck, victory, and prosperity for those who have consumed this magical potion.
Hong Kong's much-loved Michelin-recommended Cantonese restaurant Tsui Hang Village and highly celebrated French Winery Doudet Naudin are joining forces for a sumptuous ready–to-eat collaboration "Cantonese Delicacies and Wine Tasting Set" that epitomises Hong Kong's East-meets-West Culture. Combining Cantonese Delicacy and French Wines, the set will definitely delight your palate at home with unique pairing experience and be served as perfect gift idea to beloved.
"Cantonese Delicacies and Wine Tasting Set" includes one pack of "Braised Goose Web and Black Mushroom in Abalone Sauce" (4 pcs each, Frozen Vacuum Pack) and one bottle of wine. Using only the finest produce, the premium ready-to-eat vacuum pack features Japanese Black Mushroom and Poland Goose Web, stewed in homemade Abalone Sauce for hours. Simply immerse the vacuum pack in hot boiling water for 20 minutes to reheat and then ready to be served! The devotion of the chef and wine makers are impeccable marriage in the realm of gastronomy. The award winning Burdundy winery Doudet Naudin offers a wide range of value worthy wines. The fruity characteristic of Burgundy wines complement and heighten the natural flavor of the dish. Pinot Noir is rather low in tannins with dark ruby colour. Without the needs to breathe, the wine can be enjoyed once opened, with scents of black and red berries mixed with flower aromas. Chardonnay has to be chilled between 8-11 ˚C before being served. It's an aromatic, fine and well balanced wine in light golden colour with hints of linden-tree, mango, peach and some citrus. When wine meets delicacy, the set is perfect for Chinese New Year Celebration!

T&C:
- Please redeem one pack of Braised Goose Web and Black Mushroom in Abalone Sauce (Frozen Vacuum Pack) and one bottle of Doudet Naudin Pinot Noir Vin de France from Burgundy at the restaurants listed on the right with this gift voucher.
- Please call to reserve 3 days in advance to ensure stock is available before your visit.
- This voucher cannot be exchanged for cash and other products will be invalid after the expiry date.

Redemption Locations:
1. Tsim Sha Tsui : L5, MIRA PLACE 1, 132 NATHAN ROAD, TSIM SHA TSUI, KOWLOON
+852 2376 2882
2. Central : 2/F, NEW WORLD TOWER, 16-18 QUEEN'S ROAD CENTRAL, CENTRAL, HONG KONG
+852 2524 2012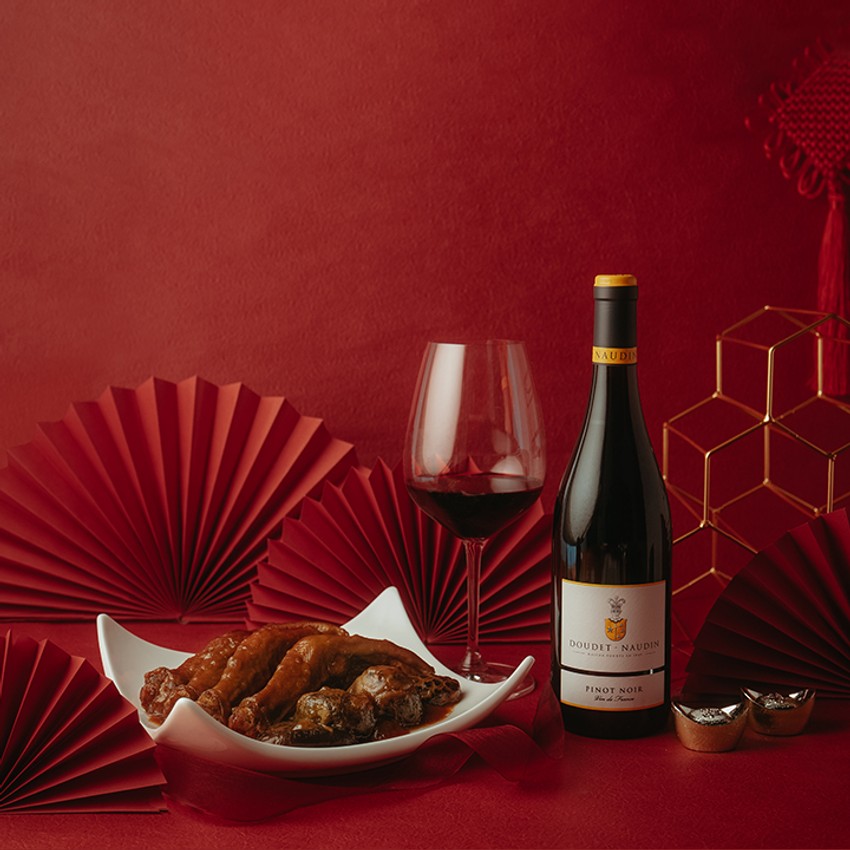 ***請理性飲酒 Please drink responsibly