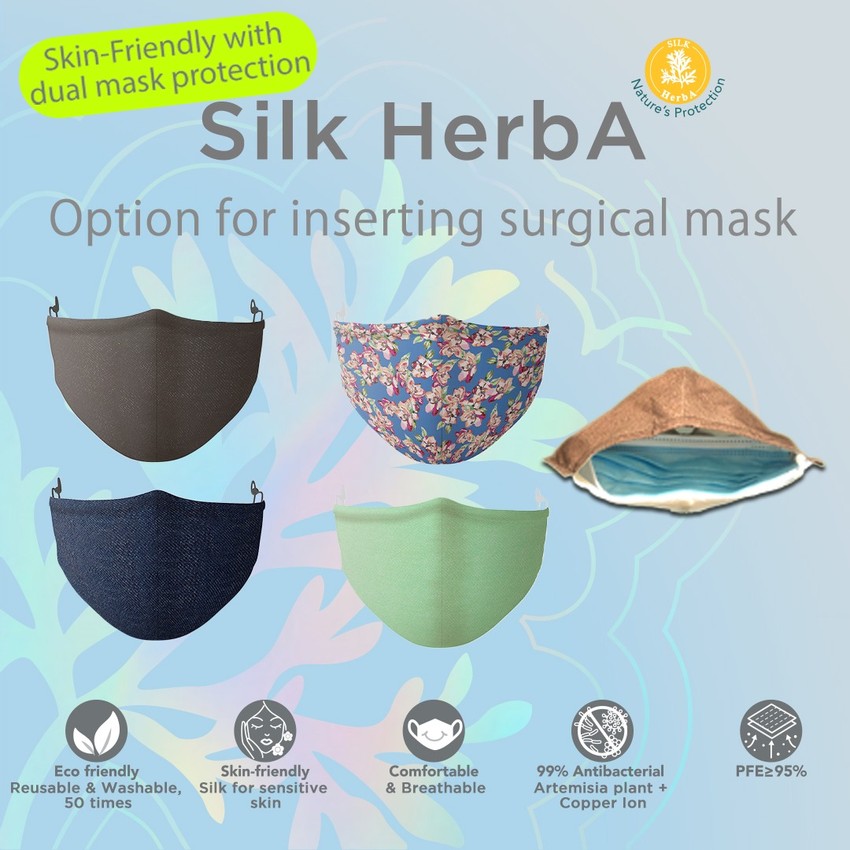 Silk HerbA: Skin-Friendly with dual mask protection, Multi-layer system option for inserting surgical mask
1.Hand wash: with a gentle shampoo and air dry
2.Washing machine: Please put the HerbA reusable mask in the laundry bag
Silk HerbA Mask
To deal with the new coronavirus of COVID-19, we must wear a mask for protection. Disposable masks can easily cause skin sensitivity and a lot of environmental pollution. During the epidemic, the amount of medical waste has surged four times, most of which came from disposable masks; it caused a lot of environmental pollution!
Thus, we have developed a patented Silk HerbA mask, which is anti-bacterial, can be washed 50 times, skin friendly, and fashionable. Introducing the world's first Silk HerbA masks, it provides the airflow you need and the best fit with comfort for daily wear.
Introducing the world's first Silk HerbATM masks, providing the airflow you need and the best comfortable fit for daily wear.
Nature's Protection: Natural, Skin Friendly, Healthy, Eco-friendly!
Product DNA
Natural: Made with innovative Silk HerbA skin friendly materials, designed to be worn all day, anytime, anywhere.
Skin Friendly: Silk HerbA is made for people who are allergic and sensitive to disposable mask material.
Eco-friendly: Reusable and washable 50 times reduce the waste from 50pcs of disposable mask.
Healthy: PFE> 95; made of 99% antibacterial material to keep the mask hygienic.
With 3D airflow design and adjustable ear straps, it can stay off your mouth and nose for good air flow with fashion outlook and protect your health.
4 layer design
LAYER 1: Silk HerbA
HerbA fabric composed of silk cellulose blend from the Artemisia plant. It offers a soft and skin-friendly material that has natural antibacterial properties whilst being breathable and comfortable. This fabric is light, breathable and antibacterial. It equipped with 3D air flow design, so it can stay off your mouth and nose for good air flow.
LAYER 2: Nano filter
This breathable filter let air through but the dust & 0.1µm particles are hard to pass (PFE >95%)
LAYER 3: Copper Ion
The copper ion layer does not just let air through but also have bacterial function to keep mask in a hygiene condition.
LAYER 4: Silk HerbA
The function is the same as the first layer.
Washing instruction:
Hand wash with neutral shampoo and air dry.
Size:
Large : 15x24cm
Medium: : 13x18cm